Anatomy of a Library of Congress Call Number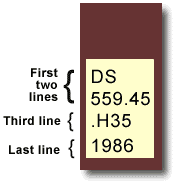 Book title: Uncensored War: The Media and Vietnam
Author: Daniel C. Hallin
Call Number: DS559.46 .H35 1986
The first two lines describe the subject of the book.
DS559.45 = Vietnamese Conflict
The third line often represents the author's last name.
H = Hallin
The last line represents the date of publication.
Tips for Finding Books on the Shelf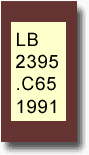 Read call numbers line by line.
LB
Read the first line in alphabetical order:
A, B, BF, C, D... L, LA, LB, LC, M, ML...
2395
Read the second line as a whole number:
1, 2, 3, 45, 100, 101, 1000, 2000, 2430...
.C65
The third line is a combination of a letter and numbers. Read the letter alphabetically. Read the number as a decimal, eg:
.C65 = .65 .C724 = .724
Some call numbers have more than one combination letter-number line.
1991
The last line is the year the book was published. Read in chronological order:
1985, 1991, 1992...
Here is a shelf of books with the call number order explained.